Hey my friends,
I am in my tent in an olive field 60 km north of Izmir.
I will meet there my friend Alican, he was a volunteer at the hostel of Tirana. I am not at ease tonight, because the weather announces gusts and rain, but let's look on the bright side; This is the opportunity to test the resistance of my tent =).
Welcome in Greece !
I crossed the Greek border on 27 March and as a welcome I go through a snowy mountain pass! It was so cold that on the descent my fingers forced me to hitchhike! But as usual after a tough day there is always a good surprise. After long negotiations in a bar, the locals found me a room (free) in a "resort & spa", Enjoy the photos =).
The next day I ride again after a good night, in the evening I arrived in a small village surrounded by orchards and young people on the terrace of a bar wave at me. They are Albanian, I was in heaven! With a mixture of English and Albanian, they explained me that their parents were born in Albania and them in Greece, they stay here because the pay is "slightly higher"; Around 25 euros per day …
Thessaloniki
I then came to Thessaloniki and Greeks told me; It is a large village, the atmosphere is friendly and the terraces of coffee are filled, I confirm this opinion! I spent my first night in a nice hostel and then I was greeted for three nights by a French friend. Thank you Hugo, for guiding me through the streets of Thessaloniki and enjoying the nightlife! I wish you joy in your future projects! Sorry I do not have any photos of Thessaloniki …
I then headed for Turkey along the coast, I spent seven nights in my tent and shower missed me =). In a small town, I tried to get lodged during 1h30 without success. I spoke with a lady who explained to me that the Greeks didn't welcome me because there is a lot of neighborhood gossip and they are afraid that they will speak badly about them. She told me it was the same in Italy, I confirm!
Here I am in Turkey !!
Before my departure, Istanbul was a must-see destination, but a friend of me, Tahsin convinced me to follow the west coast of Turkey to Izmir, because the landscape are wonderfull. So I figured that after all I could go to Istanbul an other time. And on the way to Izmir is the island of Bozcaada where Tahsin works as a manager in a campsite.
During two days until the island of Bozcaada and even now in direction of Izmir I face a wind to make me capsize. I feel my calories give up, carried away by the wind, 14 km / h on flat, it leaves me tired !
Bozcaada
Friday 7th April in the evening I took the ferry to arrive on the island of Bozcaada. Here live 2000 people year-round, they live from olives, wine (I tested their white wine, sweet, fruity, a delight), tourism and fishing. I arrived at ADA Camping and interlaced my friend Tahsin! He introduced me to his "boss" Ms Şenay and her mother; Nuran. You can see their sweet face in the photo album "Bozcaada".
Let's just say it right away, I stayed there for a week instead of four days and nearly four months, eh Tahsin! =). I rest, update my blog, answer your messages (sorry if there are still waiting!) and I spend a good time surrounded by great people! Ms Şenay managed to make me eat vegetables and eggs in the morning, it's a masterstroke ! I discovered some Turkish dishes, including the soup below, it's just delicious, nutritious and quick to cook, I already integrated it to my bike menu!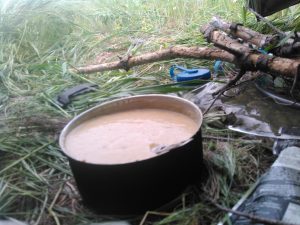 Discover the recipe of the Tarhana soup
Thank you Tashin it was a pleasure to see you again, I love your idea of ​​Hobbit village in Albania, I wish you full success and see you in two years in Cambodia =)
Last Saturday I left the island and the wind had not changed of direction … I even slept in a hotel yesterday, it was cold and there was a risk of rain, as it happens it's this evening that it rains and I'm in my tent =). There are very good roads in Turkey, at least the national roads, it's the road I take, because the smallest roads make enormous detours. Unfortunately I think I miss beautiful landscapes and villages, I hope I will find better routes for the continuation …
Daydreams
My mind then wanders towards my future steps and projects; Discovery and work of the bamboo, making of my bamboo house, life in Cambodia, solar water heater, wind turbine, stirling engine, brief inventions of all kinds … Prepare to follow my adventures after this trip, I'm highly motivate ! I also enjoy the present moment, every day offers me nice surprises, I learn, I change and it will last for two years =). Time will tell !
And luckily along the national roads there is always a bar that serves tea to hydrate the muscles and neurons!